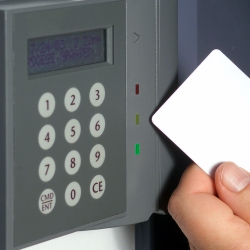 Access Control is an electronic mechanism built to lock doors and offer added security to users going through the door. Simply, this type of security system enables an authorized user to gain access to exclusive areas and resources in a facility by way of a computer based information system. The system was developed to protect businesses such as a medical laboratory in aid of monitoring persons who enter and leave the location. Generally, it was not developed for residences.
The system operates by using personal information of the user, which maybe embedded on a swipe card coupled with a computerized door locking system. The card after swiping sends a code to the computer database. If the computer database identifies the information, the system portal will open the door for entry or exit. If the computer database does not identify the user then a buzzer will sound and a red light will appear on the monitor and access is denied. The system is also able to read key codes and biometric data such as hands or fingers to allow entry.
*The Access Control System is also able to issue temporary access cards, which allows access to specific areas and integrates well with a visitor management system and seasonal employees.