Mobile Security Management – Your wireless security solution is at your fingertips. While away from your home or business you can constantly stay in touch. Your 3G or 4G mobile smart phone allows real time communication so you can:
Increase protection and communication with family and business at all times
Ensure productivity levels are maintained
Monitor employees activities
Monitor your intrusion/security system
Control security surveillance cameras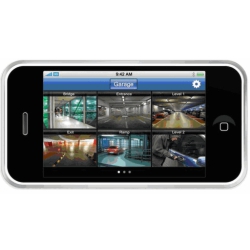 At CSS we recognize that wireless solution for security purposes is the path for our industry. Wireless gives flexibility and allows you to operate your system anywhere around the world. This communication link can be achieved by using broadband connectivity, Wi-Fi or Bluetooth on any 3G or 4G smart phone. The phone allows varied real time communication with your home or business. Being away from the office and worrying about productivity and office efficiencies are now a thing of the past. With MSM you can monitor production activities to ensure employees are operating as they should, observe employees in case of deviant behaviors, control cameras and other surveillance security systems installed on the premises. Management from afar is easier because virtual control of your business as a manager is available 24/7 from anywhere in the world.

The system interfaces with access control and video surveillance security systems.