Audio - Need to make an announcement? Then install a high quality public address (PA) surround sound system with speakers and amplifiers. The PA system is used for large gatherings and the main purpose is to ensure that the full audience can hear the speaker. Some features of the system we recommend are:
Clear quality sound
Hidden wiring
Wireless or wired microphone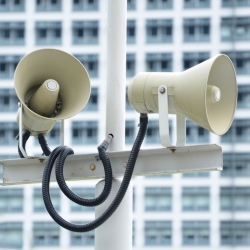 A Public address (PA) or sound reinforcement system is an integrated electronic audio amplification system using amplifier, microphone and loud speaker. There are various types of PA systems for your needs, depending on size sound quality and size of audience.
Different systems may be required for various circumstances such as business conferences, church, musical events or town hall meeting. This system is also ideal for schools, medical facilities and large business environments. You can alert residence whenever communal facilities are closed or in case of emergencies such as a fire.
With the development of audio systems in the industry, the system can be integrated with a general alarm system.

Home Audio systems - We install top class, crystal clear speakers with surround sound system for homes. Whether you are working with limited space or on a budget you can choose from our various options of speakers for your comfort at home:
Floor standing
Book shelf
In-wall or in-ceiling
Outdoor patio and deck
Satellite